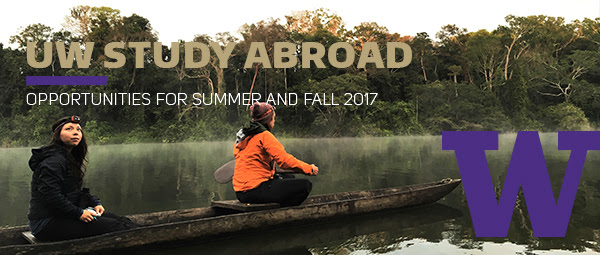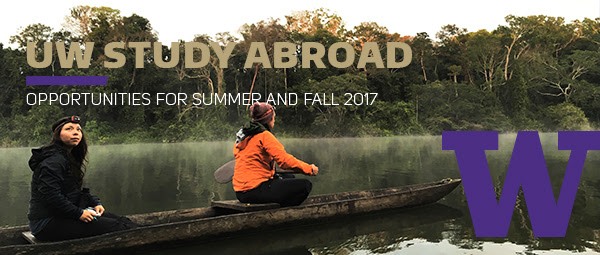 Thinking about studying abroad this summer or next year? Now is the time to apply!Here is a list of programs with deadlines coming soon. Visit our website and check out the information below to learn how you can make your Husky Experience global with UW Study Abroad.
Deadlines
University Exchanges – January 17 
Summer Programs – February 15
Early Fall Exploration Seminars – March 1 
Autumn Quarter Programs – March 1 
Advising
Are you trying to decide if studying abroad is a good choice for you? Come and talk to one of our study abroad peer ambassadors. They have a wealth of knowledge and experience and can help you figure out if studying abroad is right for you and which program may best suit your interests.
Drop-in advising: 10am to 4pm, Monday through Friday in 459 Schmitz Hall.
Scholarships
Looking to fund your study abroad program? Visit the Global Opportunities website to learn more about study abroad scholarships or meet with the Global Opportunities adviser to get advice on funding your program. Deadlines are coming up for summer, early fall and autumn programs. 
Free Passports
UW Study Abroad and CIEE are excited to offer free passports to the first 150 students who sign up. The event takes place January 12, 9am – 4pm at the ECC (Samuel E. Kelly Ethnic Cultural Center). There will be a study abroad fair afterwards from 4pm – 7pm. Secure your slot today!
Only students who have never before had a passport are eligible. You must prepare in advance by bringing certain documents, including your birth certificate.
Social Media
Find out about upcoming info sessions, events and deadlines. Get inspired by other UW Study Abroad students. Follow us on Instagram and Facebook!