August 10, 2017
Request for Proposals – Puget Sound Stewardship + Mitigation Fund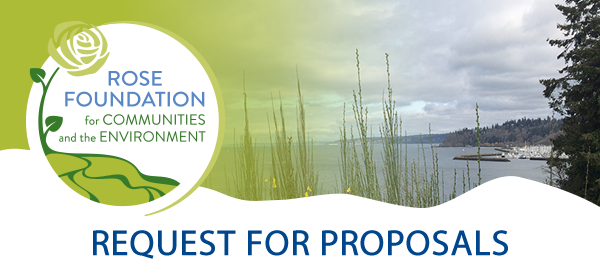 Puget Sound Stewardship & Mitigation Fund
Rose Foundation for Communities and the Environment is pleased to announce the opportunity to apply to the Fall 2017 Puget Sound Stewardship & Mitigation Fund. In 2017, the Fund will accept proposals from groups of any size.
The Puget Sound Stewardship and Mitigation Fund was created by a record legal settlement between the Puget Soundkeeper Alliance (Soundkeeper) and Burlington Northern Santa Fe (BNSF) Railway, and has since been supplemented by several other pollution mitigation payments including Trident Seafoods, SSA Terminals, Rainier Petroleum Corporation and Louis Dreyfus Company Washington LLC. More recently we received another record settlement payment from BNSF, which involved Soundkeeper numerous other waterkeepers and the Sierra Club.
The Fund's goal is to mitigate past pollution runoff by supporting community-based efforts to protect or improve the water quality of Puget Sound. Since inception in 2012, close to $3 million in grants have been awarded.
The deadline for applications is September 15, 2017 at 5PM.
Eligibility and Priorities
How To Apply
About Rose Foundation
For Further Information
Click here to begin or return to your online application.
Eligibility and Priorities
In this grant opportunities, grants awarded through the Puget Sound Stewardship & Mitigation Fund are $25,000 or less.
To be eligible for a Puget Sound Stewardship & Mitigation Fund Grant, the applicant and project must meet the following criteria:
Projects Supported: The project must be designed to improve (or prevent degradation) of the water quality of Puget Sound. Preference will be given to projects that directly benefit the Green-Duwamish River watershed, and the eastern shoreline of South and North Puget Sound and the Salish Sea from Olympia to the Canadian Border. Strong preference will be given to proposals that take an environmental justice approach to water quality.
Applicant requirements: The applicant must demonstrate the capacity to complete the proposed project, including experience in successfully conducting similar or otherwise related work in the past.
Non-profit Status: The applicant must be a 501(c)3 organization, fiscally-sponsored by a 501(c)3, or a governmental or tribal entity. If you have a compelling project, the Rose Foundation may be willing to act as your fiscal sponsor for this grant proposal.
Environmental Justice: While this is not specifically an environmental justice fund, supporting environmental and social justice is a core organizational value that guides all of the Rose Foundation's programs. Applications from environmental justice organizations are strongly encouraged.
Frequency of Applying: Organizations whose proposals are rejected may re-apply after one year. Organizations that are funded may re-apply after one year if their evaluation form has been submitted and accepted.
Duration of Support: Most grants are for a one year period; however, you do not have to ask for a one year grant. It is permitted to request a shorter or longer grant period if that is what you need. However, even if you are asking for multi-year support, the maximum request cannot exceed $25,000. After three consecutive years of funding, groups must wait two years before reapplying.
Click here to check the full eligibility requirements and to see examples of eligible projects.
How to Apply
In the 2017 grants opportunities, the Fund is open to any sized organizations. Grants will be awarded up to a maximum of $25,000 range. If your organization has an annual budget of $100,000 or less, we encourage to apply for a grant of $10,000 or less.
Please check all eligibility requirements before starting the online application. To apply, groups must complete the application process using our online grant application portal at http://www.rosefdn.org/onlineapplication.
If you are new to our online grants software, you must first register with your organization's name, tax ID number, website address, telephone numbers, email address, mailing address, contact person's name, and position. Your email address will be your logon ID and you will set up a password.
The deadline for applications is: September 15, 2017 at 5:00 PM PST
About Rose Foundation
Rose Foundation for Communities and the Environment is a grantmaking public charity that specializes in handling restitution payments and class-action settlement awards, and using these funds to support grassroots-based conservation, social justice and consumer protection projects in close conformance with the nexus of the specific settlement. Over the past 25 years, Rose has received around 400 settlements, helping to enable more than $40 million in community grants in California, Washington and other states.
To ensure that the Puget Sound Stewardship and Mitigation Fund is grounded in the values and knowledge of the local community, the fund is guided by a local Funding Board of individuals with deep knowledge of Puget Sound issues.
For Further Information
Kevin Hendrick, Grants Manager
khendrick@rosefdn.org
Tim Little, Executive Director
tlittle@rosefdn.org or 510-658-0702 x301
Laura Fernandez, Program Officer
lfernandez@rosefdn.org or 510-658-0702 x304
Please visit Rose Foundation's website: http://rosefdn.org/puget-sound-stewardship-mitigation-fund
To receive notification of future grant opportunities:
If you would like to receive notifications of any grants that may become available through various Rose Foundation grantmaking funds, please sign up at our RFP subscription page.