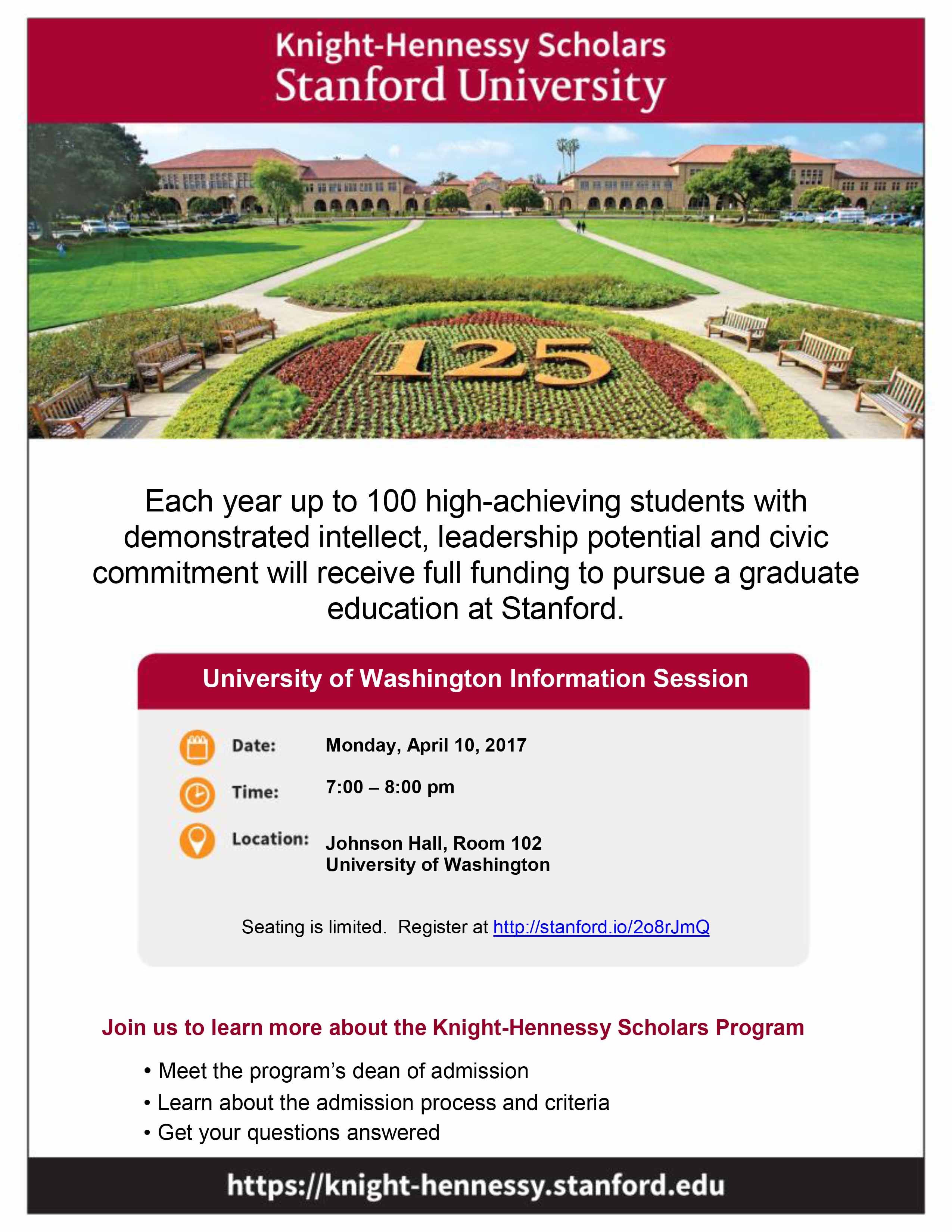 The Knight-Hennessy Fellowship Program for graduate school at Stanford will be visiting the UW on April 10th at 7:00 p.m.   I hope you'll join us to learn more about this program and that you'll encourage your interested students to attend.
This is a new fellowship that will provide full funding including a stipend for room and board for up to 100 graduate students admitted to Stanford.  Students are eligible to apply for the program if they have received their first bachelor's degree in 2013 or later and if they are applying to enroll in a full-time graduate degree program at Stanford.  Degree program options include JD, MA, MBA, MD, MS or PhD as well as joint and dual graduate degree options. The program will fund up to 3 years of a graduate program; programs exceeding 3 years will be funded by the student's home department to the extent consistent with the home department's standard funding commitment for the program.
About the Scholarship & Visit:
The Knight-Hennessy Scholars program is a new graduate-level scholarship aimed at preparing the next generation of global leaders to address the increasingly complex challenges facing the world. Starting in fall 2018, Knight-Hennessy Scholars will annually select up to 100 high-achieving students with demonstrated leadership and civic commitment, who will receive full funding to pursue a graduate education at Stanford. Scholars may pursue studies at any of university's seven internationally top-ranked graduate schools, and will be educated to navigate across business, government, academia, and the nonprofit sectors.
To learn more, attend the upcoming information session on April 10th at 7pm:  https://apply.knight-hennessy.stanford.edu/register/UW2017