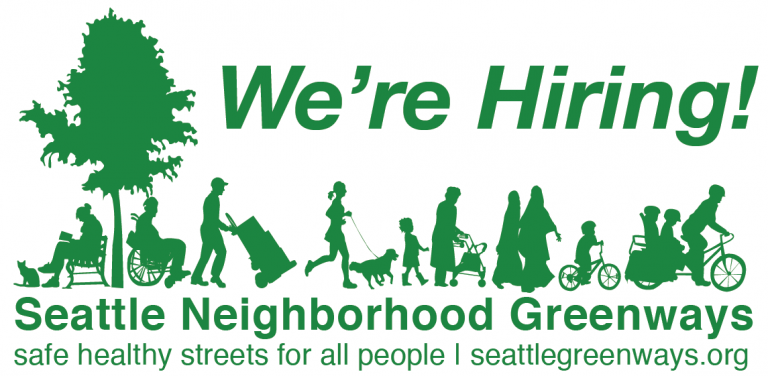 Do you want a job where you are part of the team leading the movement for a healthier, greener, more connected city?
Seattle Neighborhood Greenways is hiring two new staff to help advocate for safer Seattle streets for people who walk and bike — a Community Organizer and a Communications/Development Coordinator.
Seattle Neighborhood Greenways is excited to announce our long-time staff and current Policy Director, Gordon Padelford, is stepping up as our new Executive Director as Cathy Tuttle, our founding ED, moves on.
The Communications/Development Coordinator will help to manage fund development, communications, and operations. The Community Organizer will manage volunteers, help to run advocacy campaigns, and build local allies and coalitions.
Seattle Neighborhood Greenways is a grassroots, safe-streets-focused, non-profit that has successfully advocated since 2011 for tens of millions of dollars of investments in Seattle streets for people who walk and ride bikes. Because we are a very small organization, you will have the opportunity to work on a broad set of tasks and employ a broad range of skills.
Our vision is for a well-used, linked network of safe, pleasant, and healthy streets in Seattle. Our mission is to empower our neighbors to identify, advocate for, and activate safe and healthy streets for all people who walk and bike. We organize twenty neighborhood groups across the city to impact city plans, budgets, projects, and processes, conduct a memorial program for victims of traffic collisions, and work with low income schools to make it easier and safer for kids to walk and bike to school.
Read more about these jobs that make a difference at Community Organizer & Communications-Development Coordinator.  Apply by Thursday June 8, 2017 5 P.M. PST to jobs@seattlegreenways.org